The Department of Evil is a collective of individuals, mostly podcasters and DJs, in the underground (goth/industrial/ebm, etc.) music industry who have come together for the love of music. We are also all friends on Twitter and enjoy wreaking comedic havoc on occassion. Under the pretense of World Domination via music we come together in mutual support!!! You can find our very disorganized website at DepartmentOfEvil.com The DEPARTMENT OF EVIL (#DoE) are: (LOOK FOR THE PODCASTS ON iTunes)
Zoozees

THE OFFICIAL #DoE Concert & Travel PHOTOGRAPHER!!! Online at SmugMug Also part of The Kilted Farmer, a musical collective that helps to support live synth/industrial Electronic music in Minnesota


Of course, your very own LaTeX RaDiO
EBM RADIO (Live): [Playlist | Request ]


Live 24/7 Streaming Radio. Send requests and we'll play them. The live show is hosted byEBM-Radio's DJ Catatonic (aka Chris Mish). See what's playing by following EMBRTracks on Twitter! Also check out the EBM-Cast (EBM-Radio podcast)
DARK HORIZONS:


EBM-Radio also broadcasts Dark Horizons Radio LIVE every Thursday at 8PM EST. If you miss the live show, you can also Subscribe to the DarkCasts and/or vist Dark Horizons Radio for playlists and much more information.
The Invasion


Broadcasts: Fri 12am-2am EST on EBM Radio, Sat 11pm-1pm EST on Rant Radio & 3am-5am EST on EBM Radio, Mon 3pm-5pm EST on Dark Asylum, Wed 1pm-3pm EST & 10pm-12pm EST on Rant Radio Podcast Archive at EBM Radio podcasts
Sounds From The Sandbox w/CRY0G3N


This is a bi-monthly podcast found on Libsyn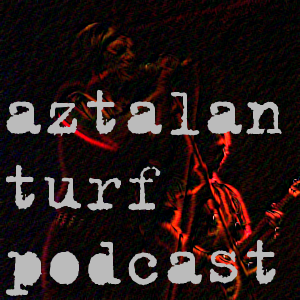 AztalanTurf


This is a bi-monthly podcast found at AztalanTurf.com
DJ DarkCloud


DJ DarkCloud is a LIVE DJ in Honolulu, Hawaii found online at the Dreaming Hawaiian Blogspot
The InsideOutcast


…and online at GeekPlanetOnline.com

Dj/Vj Pulse
The Razor Blade Dance Floor


…and online at RazorBladeDanceFloor.com. RBDF is a semi-regular podcast devoted to advancement and promotion of machine rock, industrial rock, industrial metal and coldwave artists hosted by Chromeskin Jesus.