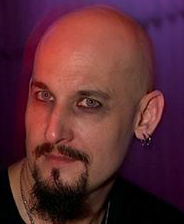 tgmondalf@latexrecords.com
Latex Records (Record Label)
TG Mondalf varies on every episode as he likes to do strongly themed podcasts based on either a genre or concept. Music genres include a wide range from EBM/Industrial, Goth/Darkwave, Techo/Trance, Ethereal, Ambient, and other forms of Electronic Music.



David AKA (Industrial Dave) Has been an Industrial artist since the late 1980, releaseing many 12 inch records and tracks on several compliations. You will find that Dave's shows are very Industrial and High energy.



Latex Radio is a labour of love and not for profit. There is no pay for producing the shows or promoting the music. If you like what you hear and wish to keep it going, PLEASE donate to the site! This will be used for the continual payment for hosting services and regular maintenance on the site.
Thank you!!